Pavilion Rooms
The Kingston Community Pavilion has a number of rooms available for hire.
Rooms comprise of a large meeting room with adjoining kitchen, small meeting room, home and away (and referee) dressing rooms. See details below.
All rooms can be hired through this site.
If you have any questions about the facilities available please contact us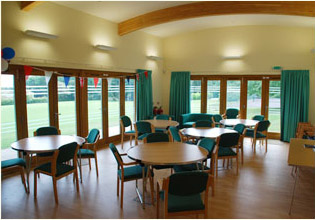 Large meeting room
The largest room in the Pavilion is approx 8m x 5.2m with windows/folding doors down two sides of the room and adjoining kitchen
This room contains round tables with chairs to seat 25 people.
There is a flatscreen 60inch TV available for hire.
The room includes black out curtains and dimmable lighting.
Book this room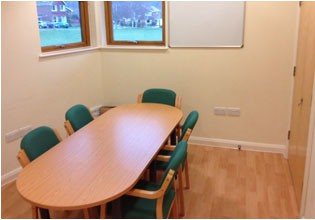 Small meeting room
This small meeting room is approx 3.6m x 2.9m with a curved side wall.
There is a rounded meeting table which is big enough to accommodate up to 6 people.
Book this room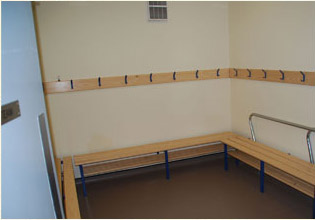 Changing rooms
There are two changing rooms 'home' and 'away'.
Each room is approx 3.6m x 2.9m with coat hooks and low benches around 3 walls.
There is also a referee's changing room with a shower.
The changing rooms are in a separate part of the building to the meeting rooms.
Book this room
Kitchen
The kitchen (approx 4m x 2.2m) adjoins the large meeting room.
There is a folding door hatch between the two rooms.
The following amenities are available:
Fridge; microwave; kettle; oven; dishwasher; sink; assorted cutlery; crockery and glassware.
The kitchen can not be hired separately but is for the convenience of those using the pavilion, If you need to use the kitchen please check availability when making your booking.